All Businesses have the power to prioritize the planet and positively impact our environment.
This is where sustainable practices come into play. Many enterprises are taking the conscious route through green business practices such as using renewable energy and creating zero waste products, to build a business that thrives on sustainable solutions. These businesses are redefining the paradigm and transforming the way we do business in the post-pandemic era that faces a real and ready threat due to climate change.
The UN-backed SME Climate Hub conducted a survey that revealed that to prevent the worst effects of climate change and meet global targets laid out in the Paris agreement, SMEs or small and medium-sized enterprises must reduce their carbon emissions. SMEs are classified as those with less than 500 employees whose impact may not seem threatening in solitary but when combined, the results from this category are sizable with them making up 90% of business worldwide. An Economic Times report states how in India alone, there are over 60 million microbusinesses and SMEs that employ over 110 million people. Noticeably then this sector can bring about concrete changes.
SMEs that supply to larger enterprises and corporations can also witness various short and long-term advantages with environmentally-focussed investments. According to the Green Energy Advice Bureau, improved efficiency, reduced operating costs and lower business risks are some of the most applauded benefits of implementing sustainable practices. Here we've listed down the sustainable practices SMEs can adopt to leverage its long-term benefits.
Practice: Reduce, Reuse, Recycle
Using the 3R theory of reduce, reuse and recycle is an effective sustainable solution. Several businesses have consciously begun to reduce waste such as paper, water and energy with innovative initiatives, new technologies and interesting energy management solutions that not only boost profits but also optimise operations.
In 2021, Prasar Bharati went paperless and adopted 100% e-office operations, as per this ZeeBiz report. A move that resulted in saving their expenditure on paper by 45% apart from reducing their carbon footprint. Reusing or sharing resources with other organisations is another substantial method of bringing down your environment impact. And finally, recycling items so that you can continue to use them further is a great way to keep things from getting wasted. Coca-Cola's 'World Without Waste' global initiative aims to recycle every bottle or can that it sells globally by 2030 according to this FinancialExpress article while Heineken recycled millions of pints of unsold beer into green gas, reports BeverageDaily.com. These are excellent examples of recycling to create a sustainable ecosystem. While these are all large conglomerates, the principle of Reduce, Reuse and Recycle can benefit SMEs immensely. The key is to cut down the waste that goes into landfills.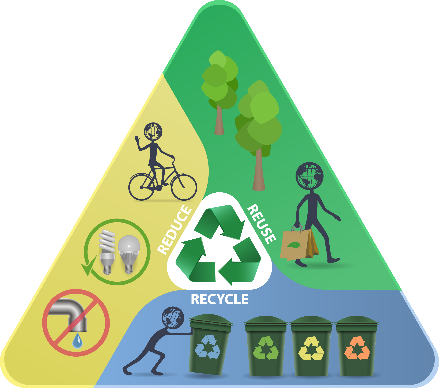 The pandemic has proved that remote work is a viable option without disruptions. This is great for SMEs who can function seamlessly without a central office and hire talent without geographical barriers. This saves the organisation the costs of stocking, lighting and cooling/heating a workplace while it helps employees save resources on their daily commute to the office thus reducing their carbon footprint.
According to this Economic Times article, many Indian companies like NoBroker, Magicpin, Meesho and ITC Infotech are embracing 'work from anywhere' to provide more flexibility, encourage better work-life balance and lower their operational costs. The article also states that real estate startup Flyhomes has given employees the flexibility to either be fully remote or work in a hybrid model. For companies that have adopted the hybrid model of work, partnering with a co-working space like CoWrks that shares your sustainability goals is ideal. As an organisation, you can simply direct employees to your co-working partner for when you need them to function out of the office or conduct in-person meetings. Using a co-working space is also a step towards sustainability as all resources are shared making it less wasteful.
As a ground rule, use only sustainable products for the day-to-day functioning of your workspace. Printer paper, cleaning supplies, notepads or even tissue papers – everything you use, must be made in a sustainable and eco-friendly way. This will shrink your carbon footprint tremendously. Green cleaners made of natural ingredients are easily available while recycled paper can also be acquired effortlessly. Use energy-efficient appliances like air conditioners and refrigerators that are green-certified for increased efficiency, lower greenhouse gas emissions and reduced water usage. According to SmallBusiness.chron.com, there are several benefits of businesses using sustainable products and the most important of them all is cost-effectiveness. Simple changes like upgrading to LED lights and smart thermostats, taking advantage of natural lighting and providing the staff with laptops instead of desktops can bring down both your costs and carbon footprint by a large number.
Importing items from across the world is time-consuming and resource-intensive with huge costs to the environment. A Forbes.com article states that the most suitable solution to this is to use local substitutes available around you. As an entrepreneur, you must look beyond the obvious for suitable but local options that work for your business. This comes with many benefits such as lower risks due to climatic change, helping the local community, reduced wastage, saving natural resources and more.
Indian consumers too are inclined towards locally-produced goods that have a lower impact on the environment. As per a BusinessInsider.in report, around 45% of Indians switched to buying locally-grown produce since the pandemic.
Invest in creating a green space where you and your team can unwind while solidifying your company's commitment to sustainability. This serves as a mode of practising what you preach that will be appreciated by employees.
Real estate developers too are focusing more on sustainability now as nearly one-third of total office spaces in six major Indian cities have been certified as green buildings according to this EconomicTimes.com article. While creating a green space is a step towards sustainability it also helps to partner with other green businesses. Look for vendors that are carbon-neutral and support other businesses that are striving to reduce their ecological footprint.
These steps are great starters for SMEs to make the switch to sustainability with long-term benefits not only to their businesses but to our ecosystem as well.