Sometimes all you need to discover your next great idea is a nudge in the right direction. That's why we've curated a list of excellent podcasts that you can tune into.    
For a busy entrepreneur like yourself, podcasts are fantastic for bite-sized inspiration and education on-the-go. Get your personalized lesson to success as you listen to the best, authoritative voices in business, technology, and even politics.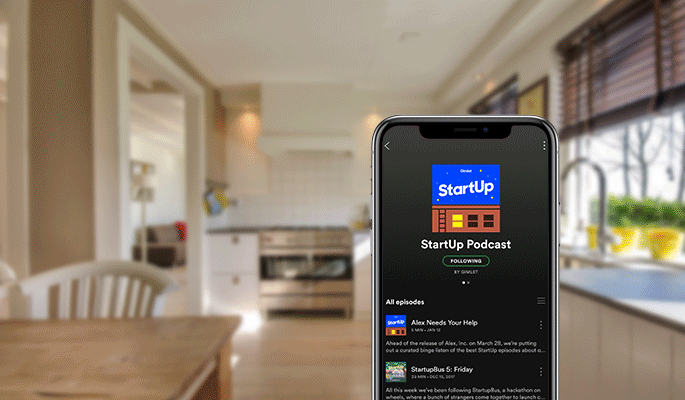 Here's our list of 16 top podcast channels. Make those (long!) commutes worth it – put those headphones on and tune out the noise and clutter.
Foundational and honest advice on how to begin building a successful business. Produced by Gimlet Media, it addresses everything from valuation and fundraising to securing partnerships.
Listen to personal success stories and interviews from well-known entrepreneurs and founders, with your energetic host, Andrew Warner. Choose from a variety of podcasts to fuel your entrepreneurial fire. For each episode, there are also transcripts available in case you'd like to preserve notes.
This popular and highly ranked show, featuring the best-selling author of 'The 4 Hour Workweek', Tim Ferriss, is the podcast you'll want to tune in to for quality content, delivered in a candid, fun manner.
EOFire is the award-winning go-to podcasts for young entrepreneurs. John Lee Dumas interviews a new entrepreneur every day of the week, giving you plenty of ideas, practical advice, and inspirational stories.
This aspirational series of case studies will give you a blueprint for success through the journey of inspirational individuals. With interesting lessons on 'How to Be a Millionaire', this will leave you incredibly motivated.
Founder of Copyblogger and CEO of Rainmaker Digital, Brian Clark gives freelancers and entrepreneurs the insight and strategy they need to create a stellar personal brand.
Reid Hoffman, Co-founder of LinkedIn and Greylock partner, gives actionable advice and presents theories on setting up groundbreaking businesses as he sits down with renowned founders such as Facebook's Mark Zuckerberg & Sheryl Sandberg and Netflix's Reed Hastings.
Giving you an inside look at the mind of a venture capitalist, this podcast hosted by Harry Stebbings will help you learn valuable tips on fundraising and the ingredients of a perfect pitch.
Hosted by Daniel Pink, this educational podcast teaches you how to work and live better. The podcast has great interviews from the likes of Adam Grant, Malcolm Gladwell and Gretchen Rubin.
Influential technology journalist, Kara Swisher hosts this hard-hitting podcast in her signature insightful style.The show features big ideas and lessons from interviews with veterans in politics, media, and business. Her guests include CNN's Christiane Amanpour, Facebook co-founder Chris Hughes, and Senator Chuck Schumer.
Let these nice guys teach you how to navigate the big, bad business world. Doug Sandler and Strickland Bonner are a "breath of fresh air" amid all the other podcasts. With a great mix of entertainment and information, they talk about integrity, honesty and other important pillars in building a solid company.
A series of 20 lectures by Y Combinator president Sam Altman and other Y Combinator alumni, this podcast (available in audio and video formats) will equip you with all the knowledge you need to get your business off the ground.
Giving you all the advice you need on entrepreneurial life, this show is anchored by Alicia Dunams. Available exclusively on iTunes, you'll hear valuable advice and tips from notable voices in economics, current affairs, and business.
This relatively new business podcast is gaining popularity with its rich content – a winning mix of detailed interviews and interesting top-tier guests. With a particular focus on the tech industry, the show features investors, founders and innovators, with success stories of entrepreneurs outside of Silicon Valley.
Get all the startup scoop in your weekly dose of news from the entrepreneurial world. Hosted by Jason Calacanis, you'll get all the juicy information you need to stay on top of the tech industry.
Pat Flynn and Chris Ducker unite entrepreneurs to brainstorm and achieve business breakthroughs and true success. Hear successful entrepreneurs narrate their thoughts and insights on how to navigate struggles and challenges.
These incredibly useful channels will help you perfect the art of multitasking, so you can make the most of your time, despite your busy daily schedule. These are the definitive voices that you need to follow. Let the wisdom of these experts be your voice of reason, as you walk the path to success.